KENWOOD TM-V71A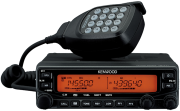 KENWOOD TM-V71A 144/430MHz FM TRANSCEIVER
Locked and loaded for action – Kenwood's TM-V71 FM dual bander (144/430MHz) is equipped to shine in any mobile communications role.
Wherever you are headed, be sure to set off with Kenwood's TM-V71. Featuring 50W output, 1,000 memory channels, multiple scan options, and PC connectivity (to store and edit data), this advanced FM transceiver is fully equipped to take on the toughest challenges, day or night. Powerful performance is matched with intuitive operational ease: the large LCD panel – with a choice of either amber or green adjustable backlighting – PF keys, and EchoLink ® compatibility all help to make this the ideal companion for dependable dual-band communications on the move.
– INVERTIBLE FRONT PANEL
– CHOICE OF 2 BACKLIGHT COLORS
– 104-CODE DIGITAL CODE SQUELCH
– VOICE GUIDANCE & STORAGE OPTION (VGS-1)
– WEATHER ALERT/RX (US only)
– EchoLink® Sysop MODE FOR NODE TERMINAL OPERATION
– EchoLink® MEMORY (AUTOMATIC DIALER)
Wide reception: 118-524MHz, 800-1300MHz*
MC-59 16-Key Hand Microphone with backlighting
Separate VOL/SQL for A & B Bands
6-pin Mini-DIN Socket for External TNC
8-pin Mini-DIN Socket for PC Connection
Programmable Function Keys
Band Mask
Call Channel
S-meter Squelch & Hysteresis Timer
Monitor Function
Mute
3-hour Auto Power Off
MHz Mode
Selectable Frequency Step
Shift Function
Repeater Offset (selectable)
Reverse
Auto Repeater Offset (on/off, VHF only)
Automatic Simplex Checker
DTMF Memory (10 channels, 16 digits)
DTMF Remote Control
Time Out Timer
Key Lock
Power-on Password
Memory Shift
Programmable VFO
Beep On/Off, Volume Control
Mic Program Function
Channel Display Mode
Power-on Message
LCD Brightness Control, Auto Brightness
Switch to External Speaker
Reset (VFO, PART, PM, FULL)