BARRETT PRC2090 HF TACTICAL TRANSCEIVER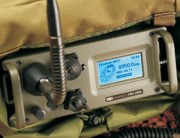 The PRC-2090 is a rugged and exceptionally specified HF Tactical transceiver with all the features available from the traditional tactical transceivers suppliers at a more realistic price. The PRC-2090 transceiver is equipped with a fully automatic antenna tuner allowing the deployment of a full range of tactical and static antennas.
All connections to the IP67 rated manpack are made using MIL-STD connectors. Configuring the PRC-2090 is simple using an intuitive Windows based programming system through the auxiliary socket.
The PRC-2090 tactical radio system comprises the PRC-2090 manpack transceiver as well as vehicle and base docking stations. When in a vehicle and base station mode the PRC-2090 will operate full 100 W PEP RF power output in voice mode.
Lightweight and Compact Design
Advanced calling features
Detachable display
Enhanced DSP noise reduction
Automatic antenna tuner
Intuitive operation
Extended operation time
Automatic Link Establishment (ALE) (optional)
Advanced frequency hopping (optional)
Internal data modems(optional)
Encryption and scrambling (optional)
Rapid Docking System (RDS) vehicle and base docking solution – 125 W PEP
Frequency range
1.6 MHz to 30 MHz Tx, 250 kHz to 30 MHz Rx*
Channel capacity
Up to 500 programmable channels (simplex or semi-duplex)
Operating modes
J3E (USB, LSB) – H3E (AM) – J2A (CW) – J2B (AFSK)
Frequency stability
±0.5 ppm
Sensitivity
-120 dBm (0.224 µV) for 10 dB SINAD – J3E Mode pre-amp on
-115 dBm (0.398 µV) for 10 dB SINAD – J3E Mode
pre-amp off
Blocking
-20 kHz and +20 kHz better than 71 dB (max. usable sens.)
Frequency hopping
5 or 25 hops per second with external syncronisation unit (ESU) supplied when the option is fitted. The Barrett frequency hopping system requires no master station, all stations are synchronised and ready to communicate on switch-on. Synchronisation is not affected by propagation or local interference and there is no late entry synchronisation delay
Rx intermodulation
Better than 89 dBµV
RF connections
Whip or long wire using internal automatic antenna tuner or 50 ohms
RF output power
30 W PEP ±1.5 dB, 10 W PEP ±1.5 dB (100 W PEP ±1.5 dB) when in vehicle docking station (voice duty cycle only)
Supply voltage
22 to 24 V DC from external supply
Average battery life
20 hrs based on a 10% voice duty cycle
Environmental
-30°C to +60°C, IP67
Programming
RS-232
Weight
PRC-2090 tactical transceiver with 10 Ah Lithium Ion battery cartridge 5.2 kg

PRC-2091 HF Tactical Mobile Package (excluding antenna) 11.8 kg

PRC-2092 HF Tactical Base Package (excluding antenna) 16.3 kg

Standards
Meets AS/NZS4770:2000, CE, MIL-STD 188-141B
MIL-STD 810G immersion, shock, vibration, dust and spray