SHAKESPEARE STYLE 420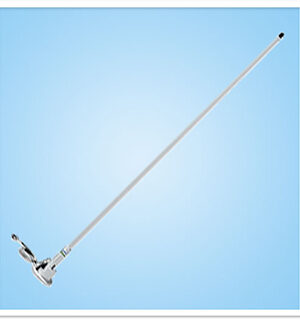 420 Classic VHF Antenna
5′ (1.5m) VHF Marine Band 3dB Gain
One of Shakespeare's most economical and value-packed VHF antennas,
the Classic 420 is ideal for day-to-day cruising in calm to moderate seas.
This 5′ digital antenna is complete with an integral polycarbonate Lift-n-Lay
mount for deck mounting as well as a leveling plate and installation hardware.
The brass and copper elements offer optimized performance while
surrounded by a durable radome.
Brass and copper elements
Leveling plate and mounting hardware included
Shakespeare 420 Specifications
Band:
VHF Marine Band
Antenna Gain:
3dB
Max. Input Power:
50 watts
SWR:
nominally 1.5:1 at 156.8 MHz
Bandwidth:
5 MHz within 2.0:1 VSWR
Ferrule:
Integral deck mount
Color/finish:
White
Polarity:
Vertical
Impedance:
50 Ohms
DC Ground:
No DC Ground – The antenna will read open on continuity test.